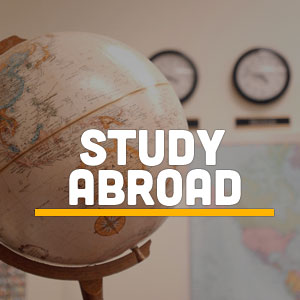 Studying abroad can be an enormously rewarding experience for anyone seeking further education combined with a change of scenery. It presents a great opportunity to travel and enjoy a different lifestyle as well as widen your horizons and future career prospects. While careful planning and choosing your destination after much research is essential to ensure that everything goes smoothly, studying internationally presents the following key benefits:
1 – Learn a New Language to Speak and Write
Although you will probably want to study in your own language, unless you already have one or more foreign languages under your belt, studying abroad presents the opportunity to learn a new language entirely. Learn, to speak it and even write a paper or essay using the newly learned language. Many of the more famous foreign universities offer courses in English and other languages than the local one, but courses in the local language will invariably be included at no extra fee. After all, there's no better way to learn a new language than by immersing yourself entirely.  Once you have written a essay or paper in the new language, you'll know you have mastered it.
2 – Become Independent
Studying abroad is a powerful personal development too. Although the change of scene and the culture shock undoubtedly presents some challenges for many, moving will serve as an important experience concerning just about every aspect of your life. Living internationally for a semester or longer might sometimes be overwhelming, but it will also test your ability to adapt to new surroundings and get a new perspective on the world.
3 – Expand Your Career Opportunities
With first-hand experience of a new country, culture and language at your disposal, you'll almost certainly return home to find a wider range of career opportunities. Your future employment options will look even more promising if you study at a prestigious university. Even more important is that you may find yourself able to permanently relocate to your host country should you so wish. Indeed, if you are planning to spend a lot of time there in the future, a local education can be highly beneficial.
4 – Make International Friends
People invariably have fond memories of their university years, and this is often doubly true for those who chose to
study abroad. Studying abroad is your chance to make lifelong international friends from completely different backgrounds to your own. By diving straight in on the deep end, which might be daunting at first, you'll also discover yourself by making new friends and partaking in hobbies and events that you might never have thought of back home.
5 – Save Money
Studying abroad can be a costly experience, but depending on the available options back home and your destination of choice, it can be a much more affordable way to further your education. In many countries, higher education is free for locals, and there are a lot of public universities abroad that charge fees of well under $1000 per semester to foreigners Germany in particular is one of the cheapest countries for foreign students, although there are numerous other options such as Spain and Italy.
Conclusion
If you have a dream to study abroad, one of the best ways to approach it is to take a gap year to travel to the destinations that most interest you. There's no better way to research potential study-abroad venues than being there in person, and you'll make enormous steps to better prepare yourself for relocating for a semester or even longer.