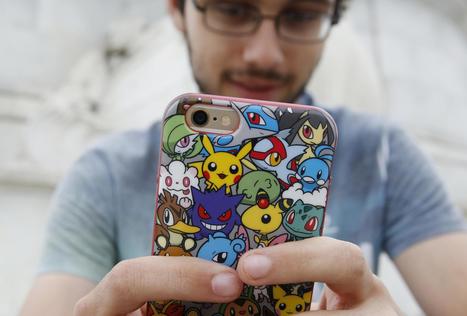 Even if you aren't a regular gamer, you'll probably have encountered Pokemon Go. If you've seen someone holding up their smart phone and pointing it at a chain-link fence, they probably weren't interested in urban architecture. It's much more likely they were trying to catch a wild Bulbasaur or Sharazad to add to their PokeDex.
There's no doubt that Pokemon Go is a great gaming experience. The way it mixes interaction with the real world with role playing and social gaming is a unique experience. That's why millions of new players are embracing it every week.
It's also what makes Pokemon GO great opportunity for educators. Here's how teachers can use the game to get their message across.
PokeMaths Can Help Boost Numeracy
At its heart, Pokemon is a game of numbers. When they battle with wild Pokemon or ones captured by other teams, players need to deal with hit points and combat points to work out which Pokemon will perform best against their opponent's forces It's quite likely that your pupils are into Pokemon. If your classes include children under 16, they will almost certainly be familiar with how the game works so why not integrate some Pokemon-based exercises into your math schedule? Relating numbers to real-world situations is a great way to help kids assimilate complex concepts, and it makes learning (and teaching) more fun as well.
Learn About Local History at the PokeGym
PokeGyms are a vital part of the Pokemon Go world. They are where players go to accumulate experience points, train their Pokemon and vanquish the forces of opposing teams. You can find PokeGyms in almost every neighborhood, but they aren't spread randomly across the map. In fad, the game's creators have ensured that they tend to be near well known landmarks like museums galleries or monuments This makes them a handy tool for educators who need to round up students on day trips and teach local history at the same time. If you organize a trip to a local museum, it may be a good idea to set aside a few minutes for Pokemon battles. That way, your pupils will be more relaxed and on your side as you explain historical battles and works of art.
Reward Good Behavior With A Glut of Pokemon
You could even enter the game yourself and buy a Lure Module. This attracts Pokemon to what are known as PokeStops. Whenever you go on trips with students, there will probably be one nearby. In fact, there's probably one near your school. Lure Modules attract Pokemon for just 3o minutes, so use them sparingly. At the start of your museum trip or class, why not promise students you will set a Lure when they have finished their work? That way, they will have something to look forward to and should be easier to manage.
Teach the Virtues of Teamwork With Pokemon Go
Another useful aspect of Pokemon Go for educators is teamwork. You can play the game solo, wandering around and capturing Pokemon, but to really experience its features, players need to join one of the three teams. Your students are probably members, whether of the same or rival teams and this can be used to your advantage. Teaching how to cooperate is hard to do. Many children don't play team sports, but how else can you teach them to work together? One way could be to run a class project charting the performance of each Pokemon team, and to suggest ways for students to cooperate to boost their experience points.
Boost the Social Skills of Introverted Students
Some teachers have also been using Pokemon Go to help students with anxiety disorders or introverted personalities Many children often find it hard to make friends and engage with the wider world, and video games are a great way to help them do so. In Australia, teachers have found that using Pokemon Go is particularly effective at encouraging autistic students to work together. That's probably because of its mixture of video gaming and real-world exploration. Without realizing it, shy or autistic children can be eased into social interactions that they might never have contemplated.
Teach National Skills
Getting around is one of those life skills that are rarely taught properly but actually make a big difference in later life. Pokemon Go could well be the most powerful tool available to teach map reading skills to ordinary students It's even being embraced by the U.S. Army Training & Doctrine Command, which intends to use Pokemon GO to teach the basics of land navigation to millennial recruits. Students have the same obsession with mobile devices and short attention spans, and they could also benefit from mixing Pokemon battles with map-reading classes.
Don't discount Pokemon Go as a video gaming craze. It could be much more than that, and educators can use it in a wide variety of ways. If you are a teacher in the academic industry, or even a parent, and you want to help children learn, it's a great way to get through to today's learners